Nobody has made an impact in alternative news media like the infamous JD Hall. Love him or hate him, he's a man of influence and has more experience in rogue conservative and Christan blogging than anyone on Earth.

You'll learn how to out-maneuver the mainstream media, set the news agenda for mainstream media publications, and write polemically to have the biggest impact in the culture wars.
You'll receive almost five hours of face-paced instruction straight from JD himself, who will share the insider-baseball tips on how to start a blog or alternative news source, build a news team, and monetize it to make it financially viable.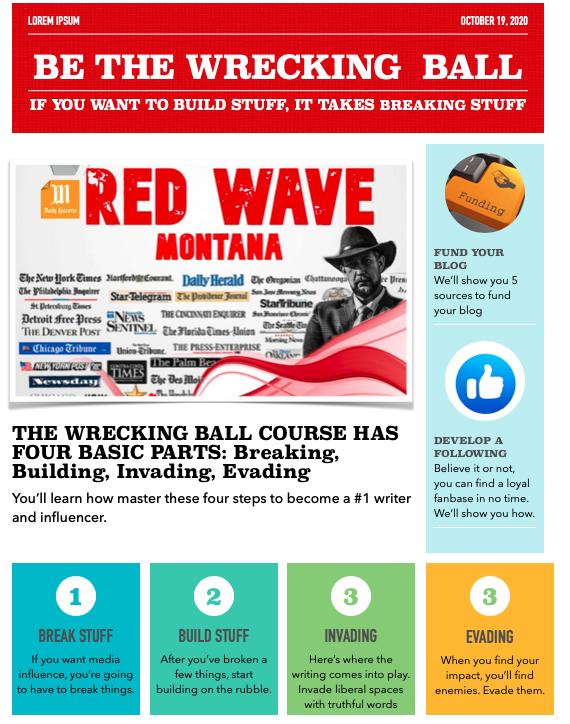 The Wrecking Ball Course has given away more than 50 free scholarships to attend the conference and, unfortunately, all the free spots are already taken by Montana's top conservative influencers. But don't worry, there's still room for more folks who consider $395 to join a course that will show you how to make many times that every single month you blog.
If you are having a hard time affording the course admission right now, don't worry; we've added an easy and convenient payment plan to afford the course over the next four months. You can register under the payment plan here at the conference website.
You'll attend over Zoom, and will have access to course notes and a large workbook containing all the hand-outs, graphs, charts, and detailed instructions about how to make you blog or website a turn-key influence machine. Because JD is sharing proprietary information, a video of the course will not be available to the public, so make plans to attend now.
Sorry, the course is available to conservatives only.