Who are these uncircumcised Philistines who challenge the army of the Living God?
David stood amazed. Here is the army of God, including David's own older brothers, who were just standing there, watching a filthy, venereal-disease-ridden pagan challenge the Almighty. Even as a youth, David knew of God's mighty deeds and incredible works. He knew of God smashing the Tower of Babel. He knew of God swallowing the wicked generation of Noah in the floodwaters of his wrath. David knew of God splitting the Red Sea and swallowing the Egyptian Army's chariots and horses in a tidal wave of divine fury. He knew of the conquering of Jericho by nothing but shouts and trumpet blasts. He had read of the Judges, who put an end to God's enemies by stabbing tent-pegs through the heads of God's enemies.
Notice that David did not say, "Who is this giant, that he should defy the armies of the Living God?" That Goliath was a giant meant nothing to David. He didn't even mention it. Again, I reiterate, David did not even mention that Goliath was a giant. It was of no concern to him. His only concern was that at uncircumcised (to the ancient Hebrew, that was an insult) Philistine was mocking Jehovah while God's Army sat there cowering at him.
Of course, his brothers did not appreciate his obstinance. David's courage, by default, made them feel as cowards. After all, Goliath was calling out a single man – any man – to fight his 9 foot, 9-inch frame. David, a youth, was nauseously horrified that no one had taken him up on the challenge. What was wrong with them?
And so, as the story goes, David took five stones (he was brave but not presumptuous), sans armor, and marched to the giant, but not before some well-deserved trash talk. Goliath mocked David, seeing his shepherd's staff and asked if he was nothing but a dog to beaten by such a stick (not seeing the sling and stones).
Not to be outdone in repartee, the future poet-king said, "Thou comest to me with a sword, and with a spear, and with a shield: but I come to thee in the name of the Lord of hosts, the God of the armies of Israel, whom thou hast defied" and after a few more words, slung a stone between the giant's eyes. And then, David cut off Goliath's head with his own sword and dropped it off at the feet of King Saul like a house-cat leaves a mouse on the front step of his master.
AMERICA IS BEING CHALLENGED BY FILTHY ROTTEN GIANTS
We have mountains and minerals, and the globalists want them. We have bodies and the eugenicists demand to jab us like experimental rats. We have trees and forests to plunder, petroleum to drill, and coal to mine. But instead, they want us starved and unable to touch our own natural resources that God gave for the good of man. Why? They want them. They want us to live in a high-rise and multi-family housing crammed into little blue dots that plague our state like cancer, with just enough room in the driveway for our Subarus with ski-racks. They vote to disarm us. Planned Parenthood murders our children. Love Lives Here and the Montana Human Rights Coalition call us racist, bigots, or homophobes. They call us extremists, zealots, and domestic terrorists. And all we want is to be left alone.
We want them to stop murdering people in the womb. We want them to treat us better than lab ferrets. We want them to stop importing wolves, grizzlies, and human traffickers. We want to be free to share our religious opinions without being told we're bigots. We want to share our political opinions without being told we're dangerous (freedom is always dangerous to tyrants). And yes, we want to call men, men and women, women without being told that basic awareness of human biology is hateful.
Convinced we are in the majority, we are too often silent, not realizing that the real offense is not to us – but to God – who is being mocked.
In Genesis 9, the sodomites came to Lot's door in a Gay Pride March and banged on his door to rape his celestial guests. He offered them instead his daughters. To hell with that. I have three daughters, two sons, and the LGBTQ can have them over my dead body. And if my body lay dead, I assure you, there will be many more on the floor first.
Gideon Knox Group publishes websites that remain unafraid of those filthy giants, no matter how big they may be. We will tell the stories the mainstream press won't tell – like the one about Antifa burning down our national forests, or importing murdered babies for research into Hamilton, or a gang of gothic transvestites haunting the Montana Capitol. We have more than ten years of accumulated writers, editors, news-hounds, admins, employees, contractors, and volunteers who have faced the devil incarnate to stand with truth. Some have been fired from their jobs. Some have been threatened with jail time (for non-existent crimes). Some have been hauled out of public meetings for calling sexual abusers to repent. We have taken the scalps of clergy sexual abusers, child molesters, and deviant monsters. And in our spare time, you'll find us with a bull horn and Go-Pros at Gay Pride events and abortuaries. In short, we don't care about being outnumbered (although, in reality, we are not). We don't care about the cowards on the sidelines. We sure don't care about the occasional giant with his extra, filthy foreskin shouting imprecations about his might.
We are the Army of God. We fear nothing but Him.
But the time is quickly coming – not because of the power of Satan but the cowardice of men – that the few fighters we have left will be targeted by the mobs, looters, and anarchists. The fascists, who ironically call themselves anti-fascists, are coming. Let me be clear; we do not fear you, and our five stones already line our satchels. The sling is at the ready.
So then, to discover that the former Chief Legal Counsel for Governor Steve Bullock, failed Attorney General candidate, and Planned Parenthood's attorney signed on to sue me for what his client calls "transphobia" troubles me little. Is he a giant? No. He's a Liliputian. And he's in over his head (which is not saying much). And yet there he stands, mocking the Armies of God and intent on coming to my home – to Richland County – and to bang on my door with the LGBTQ in tow to demand that I speak according to his wishes and not that according to God's. I wrote about that here.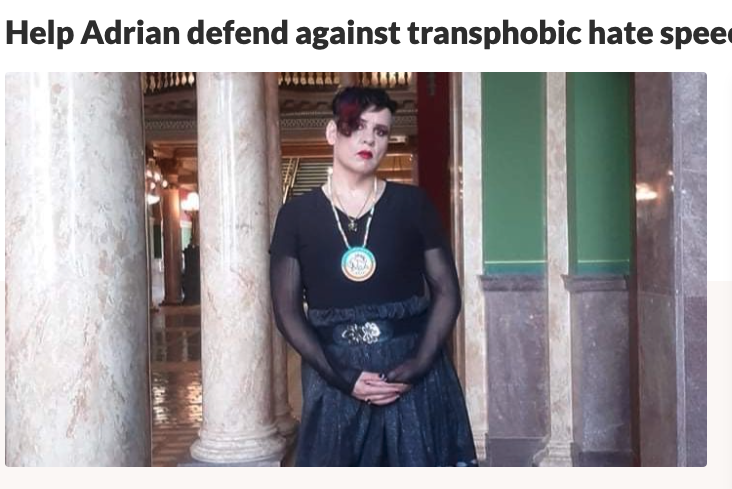 Bullock lost. Graybill lost. And, as before, God will beat him again. Proverbially, his end will be that of Goliath, or Sodom, or the dead of God's great flood when the winepress of his fury overflows into the Earth. We have raised tens of thousands of dollars to beat their attempt to stifle the press at Gideon Knox Group and did so with a single email to our supporters.
Unfortunately, so it seems – just as Saul's armor did not fit David – our banking processor didn't think we "made a good fit" to receive it because we live in an era when calling a man a man is considered "hate." If you are one of those who gave, look at the message sent to you via the giving portal and read our urgent message about how to give around them. We're positive you'll be satisfied with our solution.
On Sunday, our congregation voted unanimously to create a Romans 13 Religious Freedom Fund, to provide the necessary financial resources to fight battles without relying on the same international banks that de-funded President Donald J. Trump and the courageous legislators who asked to look into patterns of observable and demonstrable voter fraud. This way, money can be sent to a 501(c)3 organization tax-free, and given at the discretion of our church, to whatever group is being persecuted for using their religious liberty.

We want to give a hat-tip to Pastor Cary Gordon of World Outreach in Sioux Falls, Iowa who heard of our plight, and sent us thousands of dollars in funds from his church's own "Romans 13 Fund" (similar to what we made, at his advice) directly to our church to help. We will follow his lead (he also has taken on God's enemies in the court – and won). Meanwhile, we have attorneys who will eat our challengers for lunch both in Montana and outside Montana, in whatever court we may find ourselves. And by God's grace, we have millions of readers across our platforms who believe in the mission of truth-telling, religious liberty, and freedom of speech and the press.
If you're one of them, we could use your help. But don't use a giving portal you might find online (those giving portals will be coming down in days to come – which will likely be returned to you. Send a check, money order, or cash to Fellowship Baptist Church, in care of "Religious Freedom Fund" in the subject line (2181 W. Holly St. Sidney, MT 59270), for your tax-deductible contribution. It's more complicated than pressing a few buttons on your device, we know; but this way, it can't be stolen.

Meanwhile, I am gearing up go fight and will preach on the godlessness of leftism (including the LGBTQ movement) in five different cities throughout Montana in mid-September, warning them of transhumanism and transgenderism in particular, and will be collecting funds for this legal battle.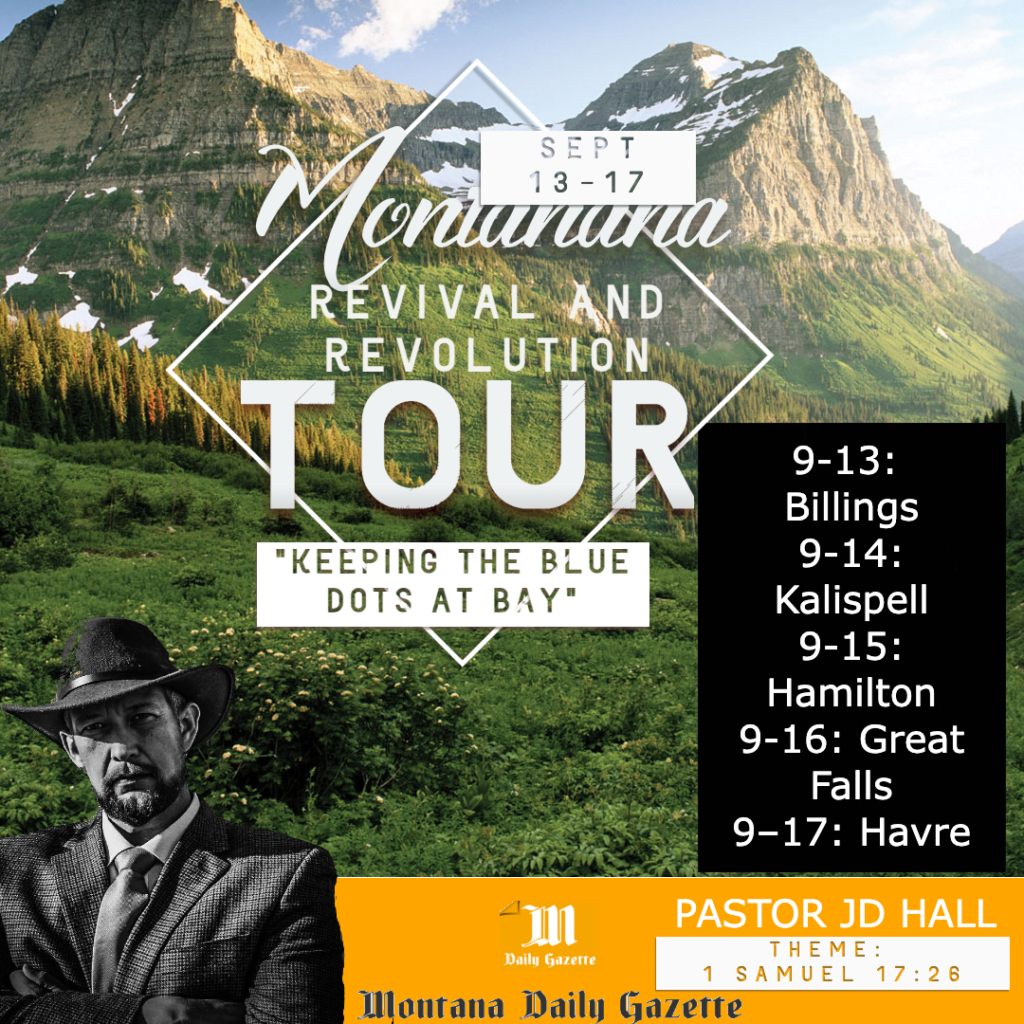 And remember, we are not only on the defensive but the offensive. We are moving forward with plans to sue the largest fueling and casino chain in Montana for violating the 1964 Civil Rights Act by giving me a no-trespass order for correctly gendering a store clerk, after asking what his trans-pride pin meant (unless they recant in 20 days).

In each and every place I'm going – Billings, Kalispell, Hamilton, Great Falls, and Havre – I will be preaching the Gospel; the Good News as the ultimate solution to the bad news that fills our television sets and news feeds. God has provided us our radio station to blast out Montana Gazette Radio – with both conservative talk radio and religious programming – to the Crow and Cheyenne nations, and in Montana and Wyoming, and it is going live as I speak. Meanwhile, we are in negotiations with other radio stations to provide our coverage around the state (and will be live-streamed around the entire world so you can listen from wherever you reside).

WE MUST FIGHT BACK. We are not paper targets. We are the remnant and elect of God, hardened and bold by the power of God. The theme of my tour will be 1 Samuel 17:28, "Who are these uncircumcised Philistines who challenge the armies of our GOD?"

Do not worry about them coming to us. We are coming to them.
Onward.
[Contributed by JD Hall, President of Gideon Knox Group]