Get Montana Gazette Articles, Ad-Free
[Editor's Note: This article has been curated from , another news site belonging to Gideon Knox Group]
D HERE! When Big Tech began to censor us in platforms like social media for being too nefarious (which crippled our traffic) and Google and Amazon developed their online advertising duopoly, it about killed our capacity to get to people REAL NEWS.
The solution to this was The Insurgency. The Gideon Knox news team, which brings to you websites like Protestia, earned just a penance of what we did before, hurting our capacity to stay viable. But want to be truth-tellers, our News Team began to send out an email with 50 banned news links from the thousands we scour each day online.
This service saves you incredibly important people time and money in trying to find the REAL NEWS that Facebook and other tech demigods try to keep you from seeing. There's a free version (three days a week) and a paid version (six days a week) of The Insurgency email blasts that will cost you a whopping $7 a month
We tried to push people to our Patreon by canceling ALL advertisements on ALL of our news sites, which lost us a good deal of money but we hoped to make it up on Patreon. Some folks, it turns out, won't give financially no matter what, so we put ads back on the websites and explained that here. People hate ads. But, we explained that articles were going to appear ad-free in The Insurgency free and paid verisons.
However, because of the volume of content we produce, Substack (our service) has gone glitchy and can't handle all the email size. And so, we are moving all original content to Patreon. We have two Patreon accounts. Keep in mind, all Patreon accounts get The Insurgency for free. You only need to subscribe to one.
Substack won't let us mention Patreon (their competitors, so you probably found this article by clicking on the link below).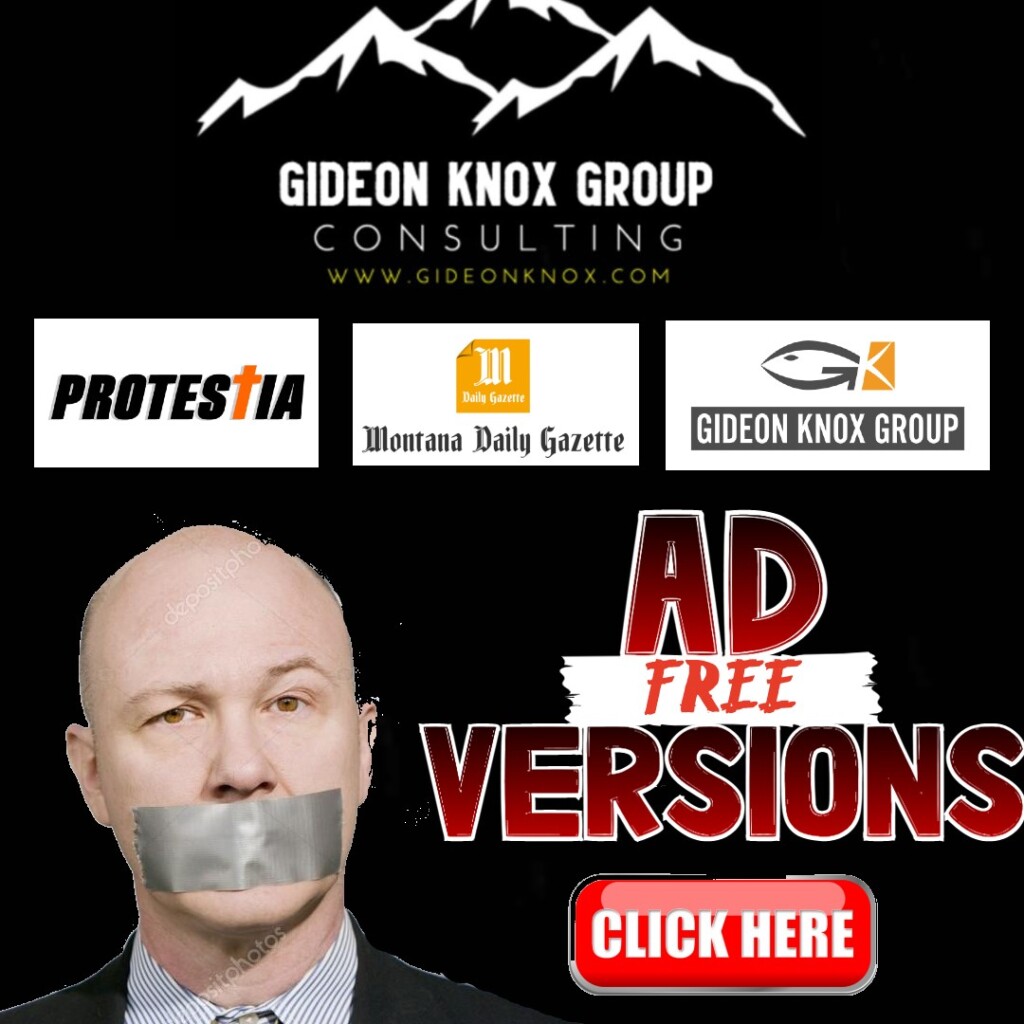 If you're here at Protestia because you love polemics, but you hate advertisements, all articles will be posted at Patreon. Yes, you'll have to join. It's $5.95 a month with no commitments, you'll get access to the full length podcasts, and be subscribed to The Insurgency. Not bad, right? Not to mention, it saves you a dolllar because The Insurgency alone is $7.
However, there are other levels of patronage if you're interested. Below is a screenshot of some of them (click it to go sign up). You can get free theology books in the mail, join us for online Zoom Bible studies, etc. But at the least – for $5.95 only – you'll get ad-free versions of Protestia articles, a paid subscription to The Insurgency, and full-length podcasts.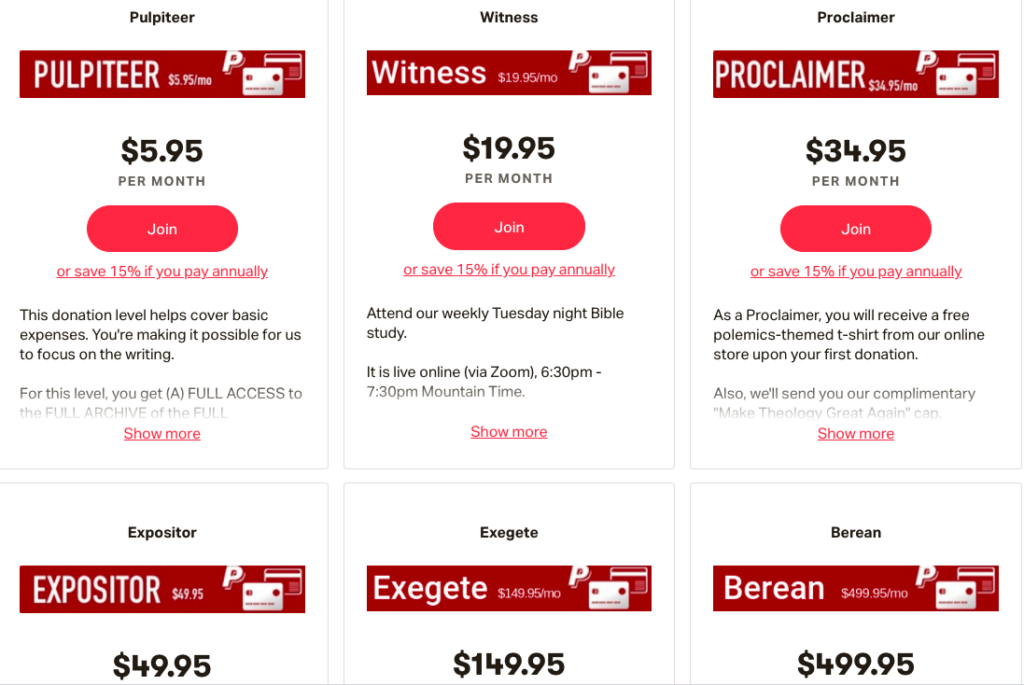 FAQ: What is Patreon? It's an app or website that gives you exclusive content. Download the app on basically any mobile device to go there online by Googling Patreon & Pulpit & Pen (or click the links below).
FAQ: Can I cancel? Yeah, whenever you want.

FAQ: Will I get subscribed immediately to The Insurgency? Nope. You'll need to email Cheyenne@GideonKnox.com, tell you her support us on Patreon, and our guys will add you to the email list.

FAQ: What if I cancel? Will my Insurgency subscription go away? Yup. But you're going to love it, so you won't cancel.
FAQ: If I join on Patreon, will my already-existing Insurgency subscription go away? Nope. You have to hit "unsubscribe" so you quit being charged for it.
FAQ: Won't that be a lot of Patreon app or email updates? Yup. Change your settings so you don't get a ding every time something new is posted at our Patreon account.
Sign up for Patreon here for an ad-free Protestia article experience, The Insurgency, and our full-length podcasts.
Oh, and if you're more into politics, or the Montana Daily Gazette, ditto for that. You can sign up for Gideon Knox Patreon's account below also by clicking the graphic.
Granted, our political version is a couple of bucks more than our theological version, but we're just now getting started over at Montana Daily Gazette. You'll also get The Insurgency and The Murder Hornet podcast.
All the same FAQ's (above) apply. Sign up for ad-free Montana Gazette articles through Patreon here.