Governor Newsome is a scoundrel. Beginning December 15th to January 15th he reinstated the 'indoor mask rule' because heaven forbid there are new viruses surging. Bah humbug.
The KING of hypocrisy is enforcing masks again and tends to get caught red-handed, going maskless himself. Just over a year ago Newsome was photographed at a dinner party, without a mask to which he offered a public apology. Give us a break; like that's going to help all the damage he's caused with his masking madness to then just flippantly claim "I'm sorry." Yeah you're only sorry you got caught.
And then there was the imposed lockdown which HE mandated via "Executive Order" then split and landed at his wife's ranch in Stevensville, Montana! And how do we know this is true? Residents saw him out and about shopping in nearby stores in Hamilton etc., and you guessed it-maskless again! To read the full story, click here.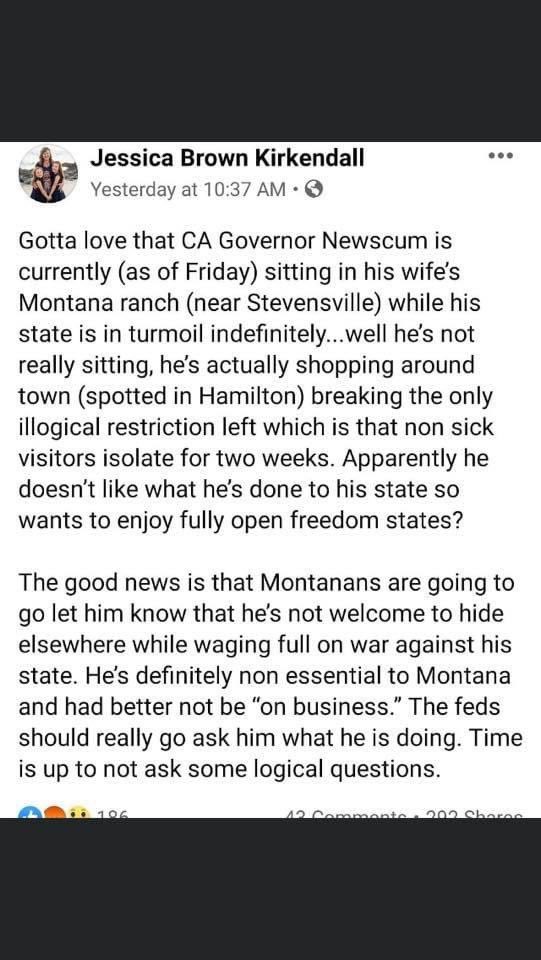 Gov. Gavin Newsom has announced the return of an indoor mask mandate, starting Dec. 15 and lasting until Jan. 15. The order comes as the per capita rate of new coronavirus cases in California has risen 47% in the past two weeks, The Associated Press reported.
"We know that there's going to be people who don't necessarily agree with this, who are tired, who aren't going to mask," said California Health and Human Services Secretary Dr. Mark Ghaly. "We hope that those are few and far between, that most people see the purpose of doing this over the next month as something to protect them and their communities during a very tough time."
However, San Francisco workplaces and gyms are exempt from the mandate. About 86% of eligible San Francisco residents have received at least one vaccine dose, according to the public health department. "It's a recognition of all of the thought and care that San Francisco residents have been putting into staying as safe as possible," said Dr. Susan Philip, San Francisco's health officer.
California lifted its previous mask mandate on June 15 for people who were vaccinated. At the time, Newsom declared the state as reopening, but since then, county governments covering about 50% of the state's population, including Los Angeles, have imposed their own indoor mask mandates in response to the Delta and Omicron variants, ABC 7 News reported.
"The Golden State" is also tightening restrictions on unvaccinated people who attend indoor events of 1,000 people or more. They're now required to show proof of an antigen test within the previous 24 hours or a PCR test within the past 48 hours. Previously, the rule allowed any test within the past 72 hours. The Newsom administration is also recommending travelers who visit or return to the state get tested within five days of their arrival."
Read the latest about this California crazy-Newsome- and his minions here.
So as it's the holidays and Newsome hates wearing the mask, we may see him sneaking around the Stevensville, Hamilton area AGAIN- so get your cameras out and send a picture or two to Montana Daily Gazette. We would publish that before you could say "Jiminy Cricket!"